Santa Maria Style BBQ Patio
---
Open every day 11:00 am to 6:00 pm except during severe wind and rain.

Closed Tuesday and Wednesday during Thanksgiving week, and Thanksgiving Day.

Closed December 23rd, 24th, and 25th.  
Welcome to the original, authentic Green Acres Santa Maria Style BBQ, a SoCal BBQ favorite serving the best gourmet barbecue you'll ever taste. This method of barbecuing is regarded as a "mainstay of California's culinary heritage". We use 100% Mesquite which gives our grilled meats a flavor that is sweet and savory. It is by far the most flavorful of the hardwoods.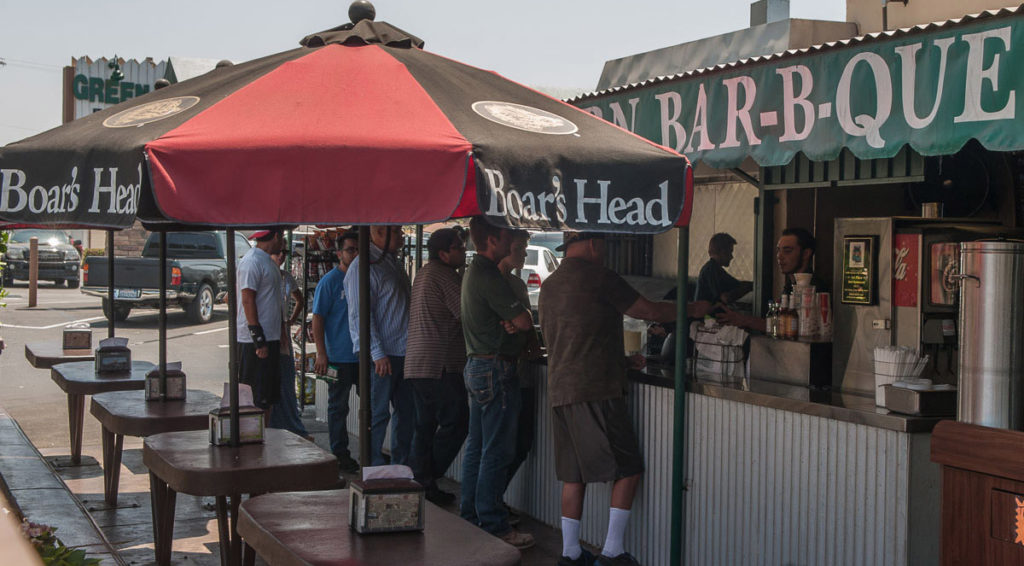 Coupled with our mesquite grill, dry rub, and toasted garlic cheese roll is our famous Tri Tip Sandwich.  Add one of our fabulous sauces to create your own unique fusion of flavor or try one of our other outstanding grilled entrees such as our Smoked Brisket, Baby Back Ribs, Beef Back Ribs, Pulled Pork, BBQ Chicken, Gourmet Salads, Steak Burgers, Grande Burritos and the best homemade sides including our award winning Chili.
 Green Acres has a comfortable outdoor patio where you will find seating for over 80 people. Our patio is fully covered for the rainy season, in addition to fans and misters for the warm summer days.
Online Shopping Now Available
Order for Pickup or Delivery
Order for Pickup Only
BBQ Sandwich Menu