Meat, Poultry, Pork, Lamb, Seafood
Beef – It all begins with a butcher…
For over 50 years Green Acres Market has been committed to being the finest butcher shop in the Ventura County and surrounding areas. You will find only the highest quality of hand cut meats, poultry, pork, lamb and seafood.
---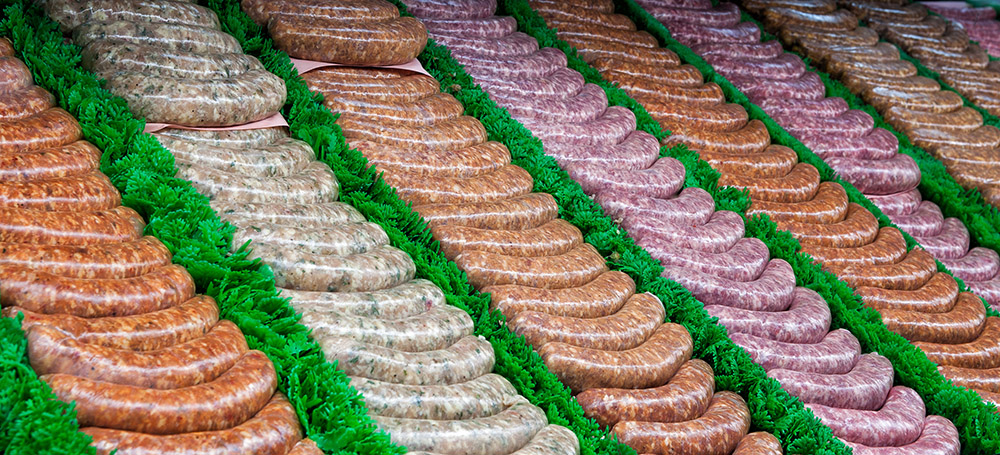 A true old-fashioned butcher shop, Green Acres offers traditional roasts, steaks, chops, and our ground beef is ground in house daily, fresh never frozen.  We offer USDA Choice and Prime Meats in addition to a full selection of premium grade Poultry, Pork, and Lamb. Our sizable meat case provides an exceptional variety of unique items including Tomahawk Steaks, Picanha Steaks, Beef Rouladen, Stuffed Pork Chops, Pork Belly, Chicken Schnitzel and our popular Twice Baked Cheese Potatoes.
Fresh Sausage – We are proud to make all our own sausage in-house daily with only the freshest ingredients.  At Green Acres Market you will discover a staggering selection of the best tasting sausage you will ever eat. Customer favorites in our rotating line up include Sweet and Hot Italian, Cajun, Honey BBQ Bratwurst, Cheddar Jalapeno, and Pineapple Teriyaki Chicken.
Our Custom Label Sauces and Seasonings are especially popular with our long-time customers. Try our Original, Bold and Zesty, or if you are looking to spice things up, The Boss Whiskey Habanero Sauce.
Grill Ready Marinated Meats – We've done the work for you, slicing, dicing, skewering and seasoning every bite. Choose from kabobs loaded with marinated meat and vegetables, to beef or pork ribs and steaks. All you have to do is heat up the grill, kick back and relax in true cookout-fashion.
Seafood – We provide Fresh Wild & sustainably caught Seafood. We will also make every attempt to special order any product or cut should you not find what you're looking for in our cases! Signature items you will find in our seafood case include stuffed salmon, fish kabobs, fresh ahi poke, and crab cakes.
Great butcher shops provide the "extras" that make their shopping experience stand apart from the rest. That's how Green Acres Market has done business for over 50 years, and we're proud to offer Custom Meat Processing as special services to our customers every day.
Online Shopping Now Available
Order for Pickup or Delivery
Order for Pickup Only
BBQ Sandwich Menu